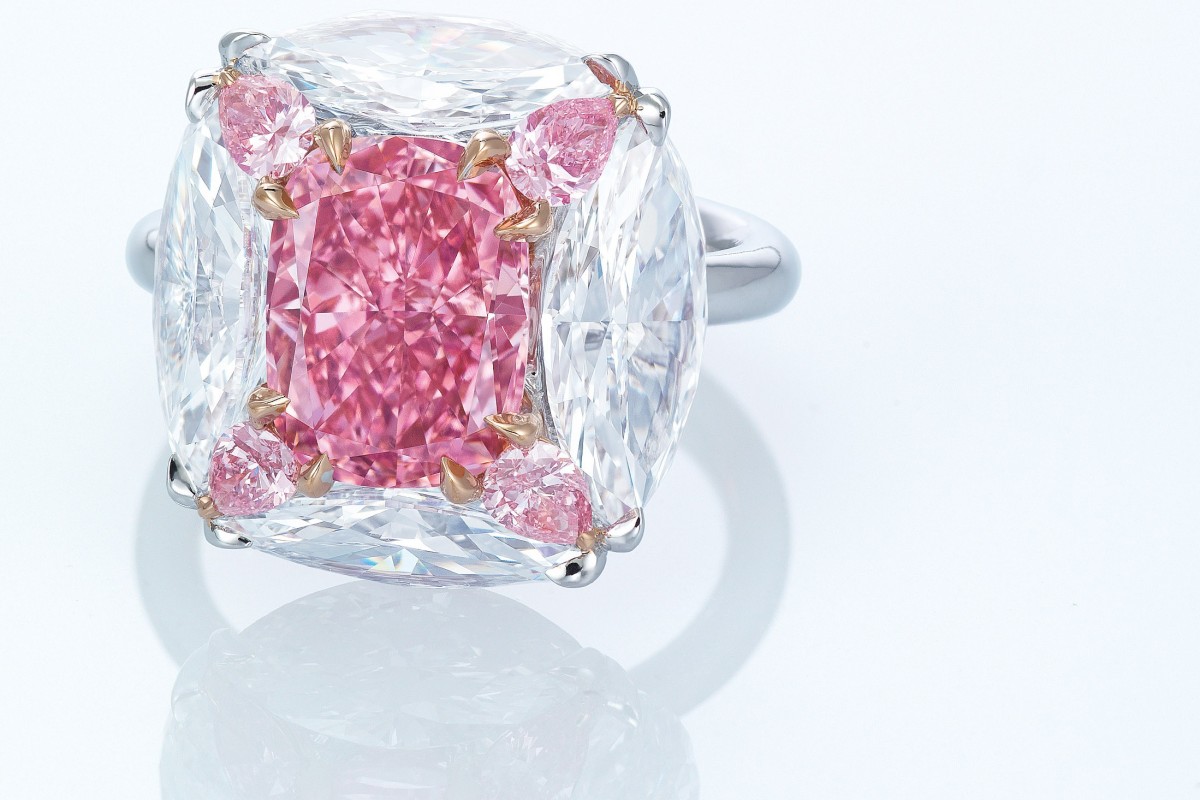 Opulent, fancy-coloured diamond jewellery, Colombian emeralds and superb jadeite designs have commanded high prices at auctions held in Hong Kong this year.

At Sotheby's Magnificent Jewels and Jadeite sales in Hong Kong in October, bidders held their breath during frenzied bidding for a ring with a 10.64ct cut-cornered rectangular mixed-cut fancy vivid purplish pink diamond set between trapeze white diamonds.

This extraordinary piece fetched HK$155.83 million (US$19.9 million). The piece is accompanied by a report from the Gemological Institute of America (GIA), stating that its fancy vivid purplish pink shade is natural and the diamond is internally flawless. It was determined to be a Type IIA diamond, which have exceptional optical transparency.




Anna Hu is among the select group of contemporary high-end jewellery designers of Chinese descent that have captured international attention. At the Sotheby's auction, one of Hu's designs – an impressive diamond necklace crowned with a cushion-shaped 100.02ct fancy intense yellow diamond pendant shaped like a pipa, the Chinese musical instrument – sold for HK$45.34 million (US$5.8 million). The versatile pendant is detachable from the scrolled diamond necklace and can be worn as a brooch. A section of necklace can be detached and worn as a single earring.




A necklace featuring a 15.08ct pear-shaped diamond pendant, suspended from a row of alternating step-and-brilliant-cut diamonds with a similarly-set clasp terminating on a pear-shaped diamond, mounted in 18ct white gold, fetched HK$9.17 million (US$1.2 million) at the Sotheby's auction.

Imperial jadeite is always sought after. At Poly Auction's "Magnificent Jewels" sale held in Hong Kong in October, the star lot was a necklace comprising 37 jadeite beads of green colour with high translucency, which sold for HK$33.04 million (US$4.2 million). The necklace has baguette-cut diamonds and a ruby-set clasp.




The other top-quality jadeite piece was a necklace featuring 25 graduated jadeite beads of vivid emerald green colour and very high translucency, with an 18ct gold clasp set with 5ct of diamonds. The price was HK$29.5 million (US$3.8 million). The piece was accompanied by a report from the Hong Kong Jade & Stone Lab, stating the jadeite beads are of natural colour, "A Jade".

Apart from jadeite designs, the auction also attracted strong bidding for a suite of jewellery with Colombian emeralds and diamonds, signed by Harry Winston. It eventually went to a buyer for H$18.29 million (US$2.3 million). This suite of emerald and diamond necklace, bracelet, earrings and ring comprises 19 pieces of the highly coveted Colombian emeralds, weighing 169.34ct in total.




Earlier in May, another fancy vivid purplish pink diamond set in a ring with white diamonds by Moussaieff fetched HK$58.82 million (US$7.5 million) at Christie's Hong Kong Magnificent Jewels auction. The 3.43ct fancy vivid purplish pink diamond, internally flawless, is of cushion modified brilliant cut and set in a gold ring alongside pear-shaped pink diamonds, marquise-cut diamonds. Colombian emeralds were also the star attraction at this auction. A pair of earrings with two pear-shaped Colombian emeralds of 23.34ct and 23.18ct respectively, and cushion brilliant-cut or old mine brilliant-cut diamond of 3.01ct and 3.01ct, went for HK$34.92 million (US$4.9 million). The earrings were accompanied by an SSEF report stating that the emeralds are from Colombia.




The top lot at Bonhams' Hong Kong Jewels and Jadeite in May was also a piece with a Colombian emerald that sold for HK$4.97 million (US$630,000). The 9.98ct step-cut emerald was accompanied by a report issued by the Gübelin Gem Lab. Another top lot was a ring with an 8.17ct brilliant-cut diamond, F colour, set between baguette-cut diamond shoulders. The price was HK$3 million (US$380,000). Phillips, Bonhams' Christie's




At Phillips' Jewels and Jadeite auction in Hong Kong in May, a ring with a 6.28ct step-cut diamond, flanked by two baguette diamonds, fetched HK$3 million (US$380,000). A 10.04ct sapphire and diamond ring by Van Cleef & Arpels was sold for HK$1.25 million (US$160,000).